"It is with great sadness that I inform you that Mater Dei Prep will close at the end of this school year, June 2015."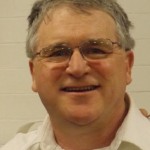 And Jim Shaw said, "No one is closing my Alma Mater, no one is closing my daughter's Alma Mater & no one is closing another Catholic school." They gave him 2 months to raise $1,000,000. He did it with 3 weeks to spare! The Seraphs are here to stay! Declan's daughter, Steve McCarthy's daughter, my daughter and hundreds of families and future alumni do not have to find another high school. And our own Jim Shaw is the reason.
You cannot make this story up. Many are honored to call Jim our brother. He is a hero today. I am grateful to have been able to witness such a feat. The students learned such an incredible life lesson. The teachers and staff are not unemployed. You do not need to be an AOH member or a St. Mary's parishioner to appreciate the magnitude of what he and his band of volunteers have accomplished. And they were honoring Jimmy at this year's convention before he even began his latest (and greatest) pilgrimage for Catholic education. And he still makes time to pipe, dance and work!! Talk about time management. The dancing still needs some work but we will give him the benefit of the doubt for once!!